Matthappy

Add Matthappy as a friend

Matthappy will be notified and will have to accept this friendship request, to view updates from Matthappy and their ratings you must follow them.

Remove Matthappy as a friend



About me
i am just a normal folk who has for hobby read, play video games and watch some anime and read some manga. I am very selective in the things i consume so don't be surprised if you see many low scores in this listal.
PD: i love boston terriers.
Occupation: university student
Lists
Recent reviews
Posted : 1 week, 4 days ago on 4 September 2019 01:46 (A review of
Flame of Recca
)
Flagrant carbon copy of Yu Yu Hakusho with almost no good points on it. Looks like Just took the most superficial aspects of the spiritual detective story without considering what really made that series good in first place... Animation is terrible and the sound is cheap, music is not very funky or memorable either, plus characters are dumb A.F... 1/10.

0 comments,
Reply to this entry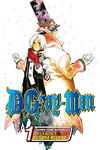 Posted : 2 years, 4 months ago on 25 April 2017 06:56 (A review of
D. Gray-Man Volume 1
)
it begins as a very cool manga and it mantains like that for a while, but then, the manga changes its publishing house and the manga-ka stops trying hard on it cuz she just has to make a chapter per month or even por 3 months and still makes a lot of money. Because of that the manga downgrades in things like fights or character chemistry. She should stop making the manga and give it a good finale now that she has some chances. But apparently she loves more the money than making a good story so she is going to delay the ending for more time.

0 comments,
Reply to this entry
Posted : 2 years, 4 months ago on 25 April 2017 05:08 (A review of
Rave Master, Volume 01
)
I am putting this score to the whole series, i am not exagerating when im saying that this is one of the best fighting shonen of all times,is top 5 with another shonen jewels as full metal alchemist, hunter x hunter and rurouni kenshin. it has everything .Drama,romance,good fights with lots of crazy strategies, ecchi comedy ( moderated of course) and a very satisfactory ending that won't let you disappointed or empty, highly recommended.

0 comments,
Reply to this entry
Movies
TV
Games
Music
Top rated

My music page

Rated 1 music

Books
Favorite Authors
DVDs